From the Director's Desk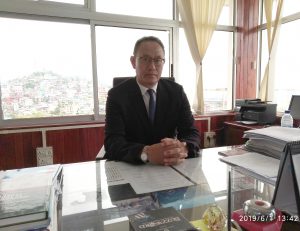 The State Council of Educational Research and Training (SCERT) is the academic wing of the Department of Education in the State and in keeping with this standpoint, the Council is striving earnestly to bring about qualitative changes in the field of school education in the State, particularly, in the area of teacher education.
The major functions of the Department are:
Framing of the Curriculum and Syllabus for the Elementary Level.

Development of Textbooks covering all Elementary school subjects including Hindi.

Conduct of Research and Survey.

In- Service and Pre- Service Teachers Training.

Conduct of Teacher Eligibility Test (TET).
      The SCERT functions at the State level while its fulcrum in the districts is the Centrally Sponsored (CSS) District Institutes of Education and Training (DIET). At present, there are eight functional DIETs in the State. The MHRD, Government of India has approved for the establishment of 3 new DIETs in the districts of Peren, Longleng and Kiphire Peren  including eight (8) new Block Institute of Teacher Education( BITE) at Sechu (Kohima), Longkhim (Tuensang) Chuchuyimlang (Mokokchung), Meluri (Phek)  Bhandari (Wokha), Aboi (Mon),Akuluto (Zunheboto) Medziphema (Dimapur). The civil works for the new institutes are underway.
The SCERT has two State level Boards namely the State Board of Teacher Education (SBTE) and Board of Elementary School Education (BESE). In addition, the English Language Teaching Institute (ELTI) is a fully functional Institute under the Department. The State Institute of Educational Management and Training (SIEMAT) under the SCERT which was established to train the educational planners and managers in the State has been inaugurated on 10th Feb 2016 and made fully functional. The department has started a six month diploma in school  guidance and counselling from April, 2018. A DIET cell headed by an Addl. Director has also been established in the Directorate to look after the affairs of the DIETs in the state.
T.SEKHOSE
DIRECTOR,
SCERT,
Nagaland Kohima