From the Director's Desk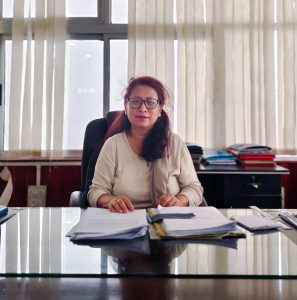 The State Council of Educational Research and Training (SCERT) is the academic wing of the Department of Education in the State which was set up in the year 1979 for qualitative improvement in school education. It comprises of various cells/departments such as the Language, Mathematics, Science, Social Sciences, ECCE, Guidance and Counselling, DIKSHA and ICT, Inclusive Education TET and Assessment Cell. Besides this, the State Board of Teacher Education (SBTE) and the State Institute of Educational Management and Training (SIEMAT) are constituents of SCERT.
The major functions and objectives of SCERT and its constituent units are:
Framing of the Curriculum and Syllabus for the Elementary Level.
Development of Textbooks covering all Elementary school subjects including Hindi.
Publish and development of supplementary teacher resource materials and educational learning materials and kits.
Conduct of Research and Survey.
In- Service and Pre- Service Teachers Training including educational administrators and school heads.
Conduct of Teacher Eligibility Test (TET).
At the district level, the major constituent units of SCERT are the DIETs which are located in the following regions:
DIET Chiechama
DIET Pfutsero
DIET Wokha
DIET Zunheboto
DIET Mokokchung
DIET Dimapur
DIET Tuensang
DIET Mon
KEVIRALEÜ KERHUO
DIRECTOR
SCERT, NAGALAND, KOHIMA